MARINA AMENITIES
Come and Enjoy a Marina Lifestyle of Fun & Boating on Lake Michigan!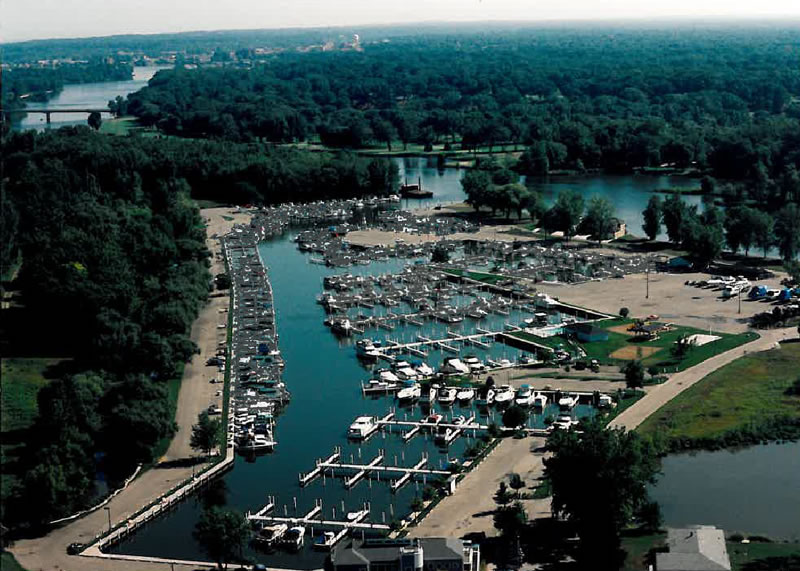 Invite your boating friends, neighbors and co-workers to discover Boating at Eagle Pointe Harbor and come join our fun!
RIGHT PLACE: On the Water and by Land, it is GOOD being up the St. Joseph River
RIGHT PRICE: Affordable for Most Every Boating Family
RIGHT Purpose: Sun+Water+Boat+Family & Friends = Summer FUN at Eagle Pointe Harbor
At Eagle Pointe Harbor, we cater to the boater seeking a resort lifestyle to share with family and friends as their 'homeport-away-from-home".
A Wonderful Boating Location for Lots of FUN on the Water:
Lake Michigan : Port-to-port day cruises; rendezvous with boating friends anchoring off one of the many beaches or adrift out in the pristine blue water; sport fishing or dangling your lines for perch; watersports upon the vast open Big Blue Water.
St. Joseph River: Many miles of recreation and navigation for scenic cruises, picnics while anchoring in serene natural surrounding, fabulous fishing, and watersports in sheltered environment.
Hickory Creek: A sportsman's stream for fishing, eco-touring & paddle-power FUN !
Eagle's Bay WaterPark: Designated area in marina for peddle & paddle watersports with a surrounding upland game zone area.
Eagle's Landing & Pool: A SportPark with recreation equipment, games, and activities that are fun for all ages. Enjoy sunbathing and relaxing with friends at our heated swimming pool with comfortable surrounding pool deck, from early day to under the lights & stars.
Eagle's Marsh: A wildlife habitat with observation landing.
Ideally situated on the St. Joseph River, Eagle Pointe offers all of the rewards of being close to Lake Michigan, along with the many benefits of being part of the world-class community of St. Joseph.
Just a short cruise upriver from Lake Michigan. Sometimes 'Up the River" is the RIGHT PLACE!
Perfect harbor for port-to-port day cruises along Lake Michigan's coast, walleye and salmon fishing on the Lake or Michigan's 2nd largest River, outings with boating friends, or to set anchor for a day at the beach.
Miles of scenic boating on the St. Joseph River. Great for fishing, water skiing/tubing and pleasure cruising- all in a protected waterway, beautiful natural shoreline.
Close to a variety of shops, restaurants, and movie theaters.
Miles of beautiful sandy beaches, minutes away by land and by water.
Schools, churches and a state-of-the-art medical center conveniently located nearby.
World-class golf courses … just a putt away.
Festivals and free concerts held throughout the season
Just 35 minutes from South Bend, 50 minutes from Kalamazoo and 90 minutes from Chicago – with easy access from I-94 and US 31-33.
Heated Swimming Pool
Children's Playground
Basketball Court
Sand Volleyball Court
Picnic Pavilion and Gazebo
Two Bathhouses
Fish Cleaning Station
Ample and Convenient parking for you and your guests.
Eagle's Bay WaterPark
Free washer and dryer
Captains & Crew Clubhouse with Pool Table and TVs
Common Area Fire Pit
Crew Kidz Arcade and Game Zone
Dog Stop Corral w/ Creeksdie Sitting Area
Kidz Inflatable Bounce Houses, Water Slide, and Challenge Course Series
Paved surfaces for walking and biking
Comcast WiFi : 3 HotSpots with Boosters for your dockside enjoyment
Sportman's Stream for miles of fishing, eco-touring, and kayaking
Nature Trails for leisurely walks, hiking, running, and biking
Trails leading to municipal parks, sports fields, and expansive countryside
Summer Music Series
Sunday AM Eagle's Morning Watch – Food Fellowship, & Faith
Stop by to visit Eagle Pointe Harbor Today!
Call 269-429-7400.